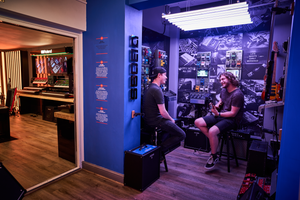 specialist roland gear zones across the uk
Test BOSS amps and pedals in the heart of London
Explore a world of tones in the BOSS section of Roland Store London
Whether you're just getting started on your guitar journey or you're an advanced player looking for a specific tone to add to your toolbox, the BOSS section in our flagship store on Denmark Street includes a vast range of our most popular gear to get your hands on. 
 From the renowned compacts and multi-FX pedals, to our award-winning Katana amps, powerful loopers and more, you'll find it all set up and ready to go in-store. 
Get hands-on with BOSS products
Discover new tones, workflows, and pedal chains at your own pace in our dedicated BOSS section.
Get expert advice from dedicated staff
All our staff are active musicians meaning you'll get accurate, up-to-date advice on finding the right gear for you.
Personalised demos of BOSS gear
Want to try something specific? Call ahead and book a personalised demo with one of the team.
Find your new tone at Roland Store London
Explore sizzling drives, spacious delays, and unexpected ear-grabbing gear in the BOSS section. Link up pedals to see what works, try out multi-FX units, and experience the revolutionary sound of BOSS.
Here to help you discover your sound
Whether you're after your first amp, looking for a specific tone, or aren't sure what you're looking for and want to explore the store, the team is here to help. Explore at your own pace, get answers to your questions, or book a personalised demo for more specific info on our most popular BOSS products.
Located on London's famous Denmark Street
Denmark Street is known for its collaboration with musical legends such as David Bowie, The Kinks, The Rolling Stones, and many more. Explore your future sound while surrounded by the atmosphere of this renowned location and discover what BOSS gear can do in this iconic part of the UK's musical history.