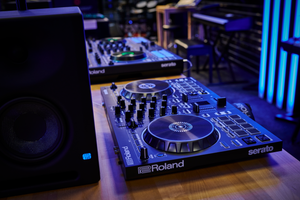 specialist roland gear zones across the uk
Find your future sound in the heart of London
Test drive Roland Dance and DJ technology at Roland Store London
Reshape your sound with legendary Roland Dance and DJ instruments. Whether you're just starting to experiment and create your own tracks, or you're looking to power up your performance with something special, our flagship store on Denmark Street is the best place to find it.
Explore the full range of Dance and DJ instruments, get help from our team, or call ahead and book your personalised demo.
Get hands-on with Roland Dance and DJ tech
From classic Roland drum machines to the creative power of Grooveboxes, try it all in-store.
Expert advice from dedicated staff
Each member of the team is an active musician, ready to find the sound you're looking for.
The fastest way to explore Roland gear
Explore a range of instruments in detail with personalised demos from the team.
Find your future sound at Roland Store London
Sequence a beat on powerful Grooveboxes, create with samplers, and hear the classic sound of legendary drum machines, all plugged in, set up, and ready to explore from the moment you step inside the store.
Get advice from a team of active musicians
Our team are musicians with a broad knowledge of all our instruments. Whether you're just taking your first steps into the world of Dance and DJ gear, or you're looking to level up your next show with something specific in mind, we'll be on hand to help you find it.
Located on London's famous Denmark Street
Explore Roland Dance and DJ gear in an iconic part of the UK's musical history. Denmark Street is renowned for its specialist music stores. Get immersed in Roland's sound while surrounded by the inspiring atmosphere of this legendary location.