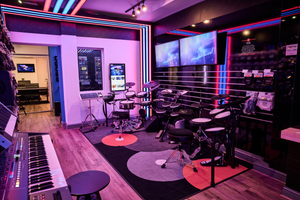 specialist roland gear zones across the uk
Test drive Roland V-Drums in the heart of London
Explore the V-Drums range at Roland Store London, Denmark Street
Whether you're looking to drum up your first beat, or you're a veteran percussionist looking to find your dream kit, Roland Store London is the best place to experience V-Drums.
Explore everything from the revolutionary VAD kits to the beginner-friendly TD series, get useful advice and demonstrations from our team, and experience it all within one of the UK's most prestigious musical landmarks.
Explore Roland V-Drums in person
Experience the tone, feel, response, and creative drive of our acclaimed
V-Drums range in-store.
Get expert advice from dedicated staff
All of the team are active musicians with an in-depth knowledge of drums, ready to help you find your perfect kit.
Detailed personalised demos of Roland V-Drums
Call ahead and book a personalised demo for the V-Drums kit you're most interested in.
Explore the V-Drums range at Roland Store London
Whether you're looking to lay down your very first beat with an entry-level kit, or you're levelling up your stage shows with the V-Drums Acoustic Design series, experience the powerful sound, response, and feel of V-Drums at your own tempo in-store.
A team of active and experienced musicians
All of our team are active musicians and ready to help you reach your drumming goals. Whether you need a few questions answered, need a full personalised demo of our kits, or just want to explore what's on offer at your own speed, we'll be here whenever you need us.
Located on the world-famous Denmark Street
Denmark Street's iconic history features artists such as David Bowie, The Kinks, The Rolling Stones, and many more, making it a perfect place to be inspired by music. Explore the Store, immerse yourself in the location, and enjoy testing out the instruments on show.