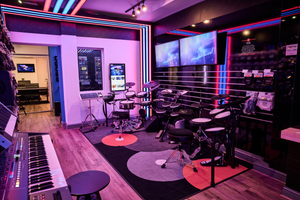 specialist roland gear zones across the uk
The best place to experience Roland and BOSS products
Visit us instore today or call / book ahead to speak to an expert and ensure your chosen product is set up and ready to try.
Learn
From taking your first steps in music to unleashing the power of your set-up, we'll help you get the most from your Roland products with practical tutorials, guides, and easy-to-follow lessons.
Create
Explore new ways of creating and level-up your music game with industry insights, advice about song writing and composition, and deep-dive guides on how your Roland gear helps you make better music.
Perform
From playing songs for friends and family to big gigs on the stage, performance is one of the true joys of music. Learn what it takes to become a better performer, watch exclusive shows from big name artists, and become well-versed in the art of keeping your audience happy.
Personal Advice
Our highly trained Roland Store specialists know all the latest Roland gear inside-out – and they're always on-hand to help you find the product that's right for you. Instead of giving you the hard-sell, they'll let you hang out and try the gear, listen to your ambitions and give you honest musician-to-musician advice.
The knowledge to help you learn, create, and perform
Roland Stores are designed around a simple idea: to help you be successful with your music. Whether you want to get the most from your gear, get creative with composition, or just be inspired by the world's top performers, you'll find all this and more at your Roland Store.
★★★★★

I found the 1-2-1 experience very useful in matching the right product, and it's great to know that Roland have such professional and knowledgeable product specialists at hand.
★★★★★

The process of booking a 1-2-1 was easy – and the session was great and very informative. The product specialist, was great – he knew everything I wanted to find out about the product.
★★★★★

I found out that I could book a 1-2-1 from the product specialist, while I was in-store. It was brilliant – he really knows his stuff and helped me understand everything I needed to get me started.
★★★★★

I found the 1-2-1 session a really good way to start using the instruments I was buying and comparing different options. Afterwards, I felt more confident in my end choice – and was able to get up and running.
★★★★★

I spoke to an excellent Roland Advisor who resolved my issue over the phone. He was very friendly, helpful, and delivered great customer service.
AVAILABLE TO DEMO
RD-88 Stage Piano
RD pianos have been the choice of professional keyboardists for more than 30 years, appearing on stages around the world. Now you can have the acclaimed RD sound and playability in a lighter, more accessible, and more affordable instrument.
Your Roland Specialist
Every Roland Store specialist is an active musician and gear expert, so they know which products are best for your gig, whether you're planning to write, record or perform. They are your point of contact for presales advice, aftercare and tech support – and will soon be a familiar face.
JUST LANDED
AIRA COMPACT
AIRA Compact puts Roland's legendary creative magic in the palm of your hand. Jam, perform, and develop ideas anywhere with genre-defining sounds. Chain AIRA Compact instruments together to extend your palette—or connect with MIDI gear, computers, and music apps to expand your existing rig.