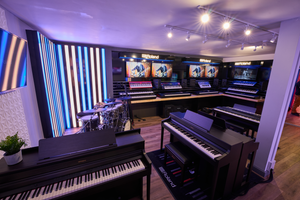 specialist roland gear zones across the uk
Discover a Synth Showroom in the heart of London
Explore the iconic sounds of synthesizers at Roland Store London
Whether you're looking for your first synth and need some pointers, or you're an experienced sound designer looking for a specific tone, the synth showroom at Roland Store London gives you hands-on time with our diverse range of powerful instruments.
Try Roland Synthesizers in person
From the limitless Fantom series to the retro sound of the boutiques, try out the full range in-store.
Get expert advice from dedicated staff
All our staff are active musicians ready to pass on their extensive knowledge of Roland Synths to you.
Book your personalised demo
Get hands-on with cutting-edge synths. Call ahead and let us know you're visiting - we'll sort the rest.
Test out Roland synthesizers at Roland Store London
Experience unlimited power and endless creative potential from the moment you step inside. From the classic ear-grabbing sound of the Jupiter and Juno series, to the Fantom workstations, you'll have full access to test the synths in-store, get hands-on with the latest music tech, and discover your new favourite sounds.
Here to help you find your next synthesizer
Whether you're just dipping your toe into the world of synthesis, a performer looking to level up your next show, or you're a veteran sound explorer looking for your next musical horizon to conquer, we'll be on hand to help you find your way forward whenever you need us.
Located on London's famous Denmark Street
Visit an iconic name in the UK's musical history. Denmark Street is renowned for its specialist music stores, and Roland Store London is no exception. Explore the widest selection of Roland Synthesizers in London while immersed in this legendary location.